Looking to avoid the chocolate indulgence this Easter?
Whether your little one can't actually eat chocolate or whether you'd simply just like a healthier alternative to the usual Easter gift this year, Tots have put together a list of our Top 10 non-choc Easter gifts. Whilst still ensuring the fun and excitement of Easter day, these lovely gifts are perfect for a Spring without sugar, and are still within budget.
Take a look at these wonderful gift alternatives to traditional chocolate eggs, they're sure to delight little ones, minus the chocolate frenzy!
Egglings by Harmony at Home
Egglings are incredible grow-it-yourself mini gardens, nestled inside an egg. Outwardly appearing as an extra large egg, your little ones will be amazed when after they break its top, they find a mini garden inside, ready to grow! The seeds are already sown into the Eggling's soil; just use a spoon to tap on its top, water it when required, place in a bright spot, and watch a garden unfurl before your eyes.
Plants continue to grow in the eggling for around five months, after which they can even be replanted in your garden so you can continue to enjoy them. You can choose from several varieties including Wild Strawberries, Lavender or Mint!
Buy it here: http://www.eggling.com/home.htm
Duck Baby Towel Wrap Set by Bathing Bunnies 
Perfect for babies, this super-cute gift set includes a soft hooded towel, a bath mitt and a matching bib. Made from 100% velour cotton terry towelling, it has a very luxurious silky feel, which is also perfect for protecting baby's delicate skin.
You can buy the Duck Baby Towel here: http://www.amazon.co.uk/Bathing-Bunnies-Hooded-Towel-Yellow/dp/B00HSVCSOU/ref=sr_1_1?s=baby&ie=UTF8&qid=1427109357&sr=1-1&keywords=bathing+bunnies
Bunny Shortbread Biscuit Box by Shortbread Gift Company
Although still a sweet treat, these delicious hand-made shortbread bunnies are a lovely alternative to chocolate. Coming in boxes of 6 chunky bunnies, these scrumptious shortbread treats are made with wholesome ingredients, with no additives, and last for up to 3 months (if you can resist them that long!). They come in three delicious flavours, traditional, vanilla or lavender, and are packaged beautifully in eco friendly boxes, with a matching ribbon and even a personal gift tag so that you can include your own Easter message. They sell out very quickly though so be sure to order soon!
You can get them here: http://www.notonthehighstreet.com/shortbreadgiftcompany/product/easter-bunny-shortbread-biscuit-box
Bunny in a Carrot by Nest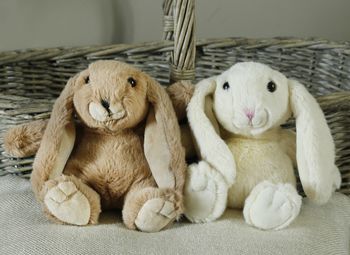 A perfect Easter gift for a newborn or little one to enjoy. Snuggle the beautifully-made soft bunny which comes in cream or brown; with its light and flexible size, bunny can also go wherever you go (or handily be stuffed into a handbag with haste, should the need arise!)
You can buy bunny here: http://www.notonthehighstreet.com/jomanda/product/snuggly-bunnies
Bath Time Hook a Duck, by Bath Time
Just like everyone's favourite fairground activity, Bath Time Hook a Duck involves the simplistic yet surprisingly satisfying action of, well, hooking a plastic duck.  After floating a few 'ducks with hooks' around the bath, just slot the fishing rod together and watch your little ones have a whale of a time catching the four floating quackers. Perfect for bath time fun, this simple concept can provide lots of enjoyment-  try and resist having a go yourself!
You can get them here: http://www.amazon.co.uk/Bathtime-Hook-Duck-Bath-Game/dp/B00L3FPENO/ref=pd_sim_k_h_b_cs_2?ie=UTF8&refRID=1BF12C3CME6M2RV9H5XH
Easter Bunny Hanging Decoration by Kitty's
This exquisite wooden personalised bunny makes for a beautiful Easter keepsake which can be hung up each year;  it can be personalised with a name, yellow, pink or blue ribbon and a date can even be written on the back, if you'd like. Made from plywood birch and hung with natural twine, each bunny is hand painted in a soft grey and embellished with a lovely little fluffy white tail.
You can buy this here: http://www.notonthehighstreet.com/kittys/product/personalised-grey-easter-bunny
Plant a Bunny Seed Gift by Plant a Bloomer
This lovely little bunny is actually a seed paper sheet, that blossoms into wild flowers when planted. Embedded with wildflower seeds and flowers/ferns, this gift will make a stunning addition to your garden. Made from unique seed paper, the Plant a Bunny arrives in a lovely ribbon-tied pocket, also containing planting instructions and seed paper information.
You can buy one here: http://www.plantabloomer.com/lb_home/little_bloomers.html
Life Size Colour In Easter Poster by Claire Close 
These giant 4ft or 6ft colour-in posters are perfect for keeping little ones busy doodling, right through the Easter holidays. Bursting with Easter toys, decorations and even a cute little chick all to colour in, these posters can provide hours of enjoyment. Each poster is topped with the phrase 'Happy Easter' although this can even be personalised with your child's name or any other message you would like, up to 45 characters.
Get one here: http://www.claireclose.co.uk/shop/colour-in-easter-eg/
Easter Finger Puppets by The Easter Home
This beautiful set of felt Hen, Chick and Bunny finger puppets will make great Easter entertainment for younger ones. Super for use as prizes in an Easter egg hunt or to even keep everyone entertained at the dinner table, the puppets arrive in a pretty presentation pack decorated with spots and Easter Eggs.
You can get them here: http://www.notonthehighstreet.com/theeasterhome/product/easter-finger-puppets
Learn to Knit, Jungle Birds Kit by Gift Horse Knit Kits
Gift Horse offer a wonderful selection of knit kits to suit knitters of all abilities; these three musical birds keep things simple for new knitters, with chunky wool, bamboo needles and everything you need to make and decorate your mini trio. For a little added fun, three small bells are also enclosed so if you want to (and you think your child is old enough for them to be used safely) you can make your birds jingle when you give them a little shake.
You can buy them here: http://www.gifthorsekits.co.uk/jingle-birds-learn-to-knit-kit-starter-kit/
There is something for everyone this Easter, so if chocolate isn't for you or your kids then not to worry- you will still be spoiled for Easter gift choice! Keep an eye out for our upcoming article providing inspiration about some fun Make and Bake activities to have a go at this Easter  or visit our site HERE to book your baby & toddler friendly break for this Easter.
Images belong to respective sellers, Tots to Travel do not own any product images on this page.